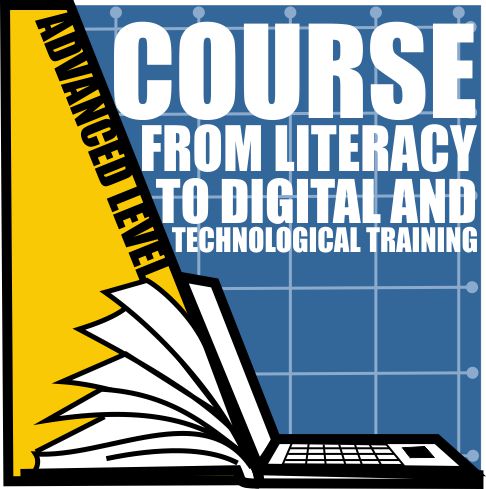 This level is focused on developing the competences of initiative and entrepreneurship, critical thinking and analysis, and especially the digital skills of adult students through all the above. Scientific thinking is also worked on as a basis for future employability in the digital sector.
OBJECTIVES
The development of this training will allow you to update and improve skills related to critical thinking in organizational and professional contexts. Being able to issue proposals and ideas with their own criteria, as well as making reasoned decisions, based on objective criteria and capable of being rigorously argued in the workplace, are valuable competencies that can represent an opportunity for any adult person.
It will allow you to develop the skills of initiative and entrepreneurship, the development of critical thinking and analysis, and especially digital skills. With this, at the end of the course we will know and have the ability to face with initiative and entrepreneurship the different contexts and personal, social, academic and work situations, in order to transform ideas into acts, make effective use of processing and treatment techniques of information, the creation of digital content or the safe and sustainable use of ICTs.
In addition, this training has the purpose of working on the ability to understand and communicate, through different points of view, and adopt a favorable attitude in the prevention and overcoming of professional or organizational conflicts and problem solving. These new knowledge, procedures or attitudes will contribute to greater security and confidence in your own professional decisions, as well as access to new training itineraries (formal and non-formal), and the acquisition of basic skills for social and labor inclusion.
STRUCTURE
The three levels of the course have the same format, a flexible structure adapted to the needs of the student, structured in the following sections:
OBJECTIVES: the objectives to be worked on the level are listed, according to the 3 areas of learning.
BASIC COMPETENCES: a series of key transversal competences are specified for each level, in order to motivate and develop the self-confidence and inclusion of users, as well as to foster critical thinking, essential to work in the field of science.
METHODOLOGY: The proposed methodology promotes the inclusion of all students through collaborative and practical learning among equals, an essential pedagogical tool such as critical thinking, and the competence of learning to learn. It is about Micro-elearning: a proposal based on virtual learning and aimed at breaking-down didactic content through which certain skills are acquired. Learning in this way is generated in small pills (specific cases or examples) independent from the rest, but interconnected with them, forming a broader and deeper knowledge in the long term. It also allows it to be done in a short time, and can be carried out at any time and place through a digital device.
CONTENTS: Selected from an analysis of previous knowledge, in order to configure a specific itinerary for the student. They are comprised of a large number of independent Didactic Units (DUs) that will develop specific competencies so they achieve the proposed objectives.
EVALUATION AND CERTIFICATION: adapted to the previous knowledge of each student. Students who successfully complete the whole course will receive the digital badge "DIGITAL AND TECHNOLOGICAL TRAINING DIPLOMA".
CONTENTS
AREA 1: DEVELOPMENT OF INITIATIVE AND ENTREPRENEURSHIP
1.1 INTRODUCTION OF THE AREA
1.2. OBJECTIVES OF THE AREA
1.3. CONTEXT OF THE AREA
1.4. CONTENTS OF THE AREA
DU 1. AUTONOMY: generating confidence and self-knowledge.
DU 2. SELF-CONTROL: responses in adverse situations.
DU 3. COMMUNICATION: the ability to generate clear and consistent messages.
DU 4. COMPROMISE AND RESPONSIBILITY: compliance with rules and tasks.
DU 5. FLEXIBILITY: capability to adapt to changes and accept other points of view.
DU 6. ATTITUDES: developing key competences (motivation, maturity, tenacity, resiliency).
DU 7. LEADERSHIP AND INITIATIVE: capability to build consensus before uncertainty; negotiation.
DU 8. MANAGEMENT AND EXECUTION: capability of execution of work, planning and monitoring, and risk management.
AREA 2: DEVELOPMENT OF CRITICAL THINKING AND ANALYSIS
2.1 INTRODUCTION OF THE AREA
2.2. OBJECTIVES OF THE AREA
2.3. CONTEXT OF THE AREA
2.4. CONTENTS OF THE AREA
DU 1. FORMULATION: formulating problems and questions clearly and precisely. Understanding science as a human activity with multiple relationships with technology, society, and the environment.
DU 2. EVALUATION: accumulating and evaluating relevant information; using abstract ideas to interpret said information effectively.
DU 3. CONCLUSION: reaching conclusions and solutions, testing them with relevant criteria and standards.
DU 4. AN OPEN MIND: evaluating various points of view, not limiting yourself to the prevailing view, and knowing alternative systems of thought. Questioning the validity of arguments, rejecting conclusions not based on evidence, detecting argumentative fallacies, and evaluating the credibility of the sources considering the underlying interests.
DU 5. SOLUTIONS TO PROBLEMS: assessing and making judgments that allow decision-making considering their contribution to meeting needs and solving problems.
AREA 3: DEVELOPMENT OF DIGITAL COMPETENCES THROUGH CRITICAL THINKING
3.1 INTRODUCTION OF THE AREA
3.2. OBJECTIVES OF THE AREA
3.3. CONTEXT OF THE AREA
3.4. CONTENTS OF THE AREA
DU 1. INFORMATION, INFORMATIONAL LITERACY, AND DATA PROCESSING: identifying and locating, retrieving, storing, organizing, and analyzing digital information; evaluating its purpose and relevance.
DU 2. COMMUNICATION AND COLLABORATION: communicating in digital environments, sharing online resources, connecting and collaborating with other people through digital tools, interacting and participating in communities and networks; intercultural awareness.
DU 3. CREATING DIGITAL CONTENTS: creating and editing new contents (texts, images, videos…), integrating knowledge and reworking previous contents, making artistic productions, multimedia contents and computer programming, and knowing how to apply copyright.
DU 4. SECURITY: personal protection, data protection and digital identity; use of security, safe and sustainable use.
DU 5. PROBLEM SOLVING: identifying digital needs and resources, making decisions to select the appropriate digital tools according to the purpose, solving conceptual and technical problems through digital means, the creative use of technology, and updating your own competences and those of others.
BASIC INFORMATION
| | |
| --- | --- |
| Number of Didactic Units | 18 |
| Number of downloadable materials | |
| Number of learning pills | 76 |
| Approximate number of hours to complete the course | 252 |
| Number of languages available | 2 |
---
ACCESS TO THE COURSE
You've got two ways to access the course:
ACCESS THE E-LEARNING PLATFORM
Registration is required to access a personalized learning pathway and earn the certification and digital badge. However, if you prefer to access as a guest to see the possibilities offered by this course, access with the following information:
User and password: Literacy2
DOWNLOAD THE CONTENTS OF THE COURSE