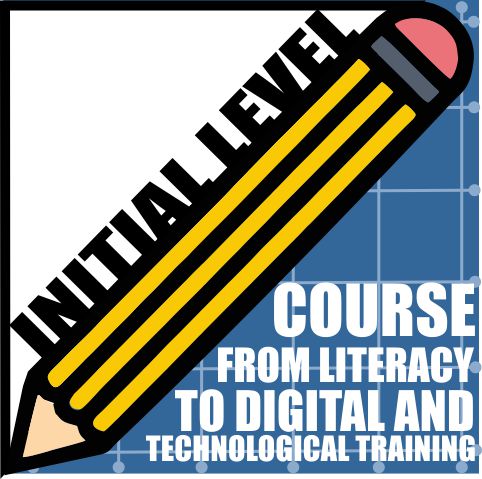 This level focuses on the basic literacy of the student with low or without qualifications, in order to improve their reading, writing, and math skills. It includes specific materials and contents for the development of basic skills, all of it through a technological perspective that develops critical analysis.
OBJECTIVES
The main objective of this first level of basic training is to pretend to serve as a means of employment for young people between 18 and 30 years old who have dropped out of school and find difficulties or barriers in accessing the labor market. The idea is simple: to offer young people who have been excluded from the educational system a training path and a framework for them to acquire self-confidence and acquire the basic skills necessary for their socio-labor insertion.
The objectives are compatible with the Early Childhood Education curriculum and promote the development of the key competencies necessary to access Secondary Education for adults, and the improvement of knowledge, skills and abilities that favor personal, work and social development.
The development of this training will allow you to acquire basic training, expand and renew your knowledge, and improve the skills related to linguistic communication, mathematical reasoning to solve daily life questions and technological knowledge as a basis for critical thinking.
STRUCTURE
The three levels of the course have the same format, a flexible structure adapted to the needs of the student, structured in the following sections:
OBJECTIVES: the objectives to be worked on the level are listed, according to the 3 areas of learning.
BASIC COMPETENCES: a series of key transversal competences are specified for each level, in order to motivate and develop the self-confidence and inclusion of users, as well as to foster critical thinking, essential to work in the field of science.
METHODOLOGY: The proposed methodology promotes the inclusion of all students through collaborative and practical learning among equals, an essential pedagogical tool such as critical thinking, and the competence of learning to learn. It is about Micro-elearning: a proposal based on virtual learning and aimed at breaking-down didactic content through which certain skills are acquired. Learning in this way is generated in small pills (specific cases or examples) independent from the rest, but interconnected with them, forming a broader and deeper knowledge in the long term. It also allows it to be done in a short time, and can be carried out at any time and place through a digital device.
CONTENTS: Selected from an analysis of previous knowledge, in order to configure a specific itinerary for the student. They are comprised of a large number of independent Didactic Units (DUs) that will develop specific competencies so they achieve the proposed objectives.
EVALUATION AND CERTIFICATION: adapted to the previous knowledge of each student. Students who successfully complete the whole course will receive the digital badge "DIGITAL AND TECHNOLOGICAL TRAINING DIPLOMA".
CONTENTS
AREA 1: DEVELOPMENT OF COMMUNICATIVE SKILLS – LITERACY
1.1 INTRODUCTION OF THE AREA
1.2. OBJECTIVES OF THE AREA
1.3. CONTEXT OF THE AREA
1.4. CONTENTS OF THE AREA
DU 1. THE IMPORTANCE OF BEING UP-TO-DATE: understand, use and analyze written texts to achieve personal goals, develop your own potential and knowledge, and fully participate in society.
DU 2. CRITICAL READING: know how to read in an analytical way.
In addition to understanding what is said in a text, analyze what is expressed to verify if it succeeds, its mistakes, and the ways in which the information is presented to us.
DU 3. ANALYSIS AND EXPRESSION OF THE CONTEXT: construct coherent, adequate, and cohesive sentences or texts, according to the intention, the situation, and the underlying communicative function.
AREA 2: DEVELOPMENT OF MATHEMATICAL COMPETENCES
2.1 INTRODUCTION OF THE AREA
2.2. OBJECTIVES OF THE AREA
2.3. CONTEXT OF THE AREA
2.4. CONTENTS OF THE AREA
DU 1. BASIC CALCULATIONS FOR ACCOUNTING: numbering systems, basic operations.
DU 2. MATHEMATICAL ASPECTS AND THEIR DAILY USE: monetary system, multipliers and divisors.
DU 3. PERCENTAGES AND PARTITIONS: proportionality, casic operations.
DU 4. CREATING BUDGETS: income and expenses.
DU 5. STATISTICS AND PROBABILITY: using central measures, dispersion measures, and techniques of probability to analyze events.
DU 6. ALGEBRAIC LANGUAGE: translating daily situations to algebraic language.
AREA 3: DEVELOPMENT OF TECHNOLOGICAL COMPETENCES
3.1 INTRODUCTION OF THE AREA
3.2. OBJECTIVES OF THE AREA
3.3. CONTEXT OF THE AREA
3.4. CONTENTS OF THE AREA
DU 1. IN THE WORK FIELD: precisely detect and define technological problems and design a solution for them, assessing their environmental and social impact and applying technological knowledge -from other branches or those obtained through analyzing objects and systems- to carry out its planning and execution in an effective, creative, and collaborative way.
DU 2. CRITICAL ANALYSIS: use the means of the technological environment in various contexts, selecting and interpreting the information appropriately, to understand its working and solve common problems in today's technified society.
DU 3. IMPLEMENTING SOLUTIONS: carry out technological solutions based on a documented planning, acting methodically, and assessing the result and the process to continue with improvement cycles.
DU 4. WHAT IS OUT THERE?: knowing the infrastructure of telecommunications, web services and navigation, and recommendations of use.
DU 5. OFFICE AUTOMATION: the use we make of computers as consumers. Knowing and using the main operating systems and word processors.
DU 6. APRENDIZAJE VIRTUAL: know where to place e-learning; assimilate the concept and know its characteristics and factors.
BASIC INFORMATION
| | |
| --- | --- |
| Number of Didactic Units | 15 |
| Number of downloadable materials | |
| Number of learning pills | 73 |
| Approximate number of hours to complete the course | 252 |
| Number of languages available | 2 |
---
ACCESS TO THE COURSE
You've got two ways to access the course:
ACCESS THE E-LEARNING PLATFORM
Registration is required to access a personalized learning pathway and earn the certification and digital badge. However, if you prefer to access as a guest to see the possibilities offered by this course, access with the following information:
User and password: Literacy1
DOWNLOAD THE CONTENTS OF THE COURSE