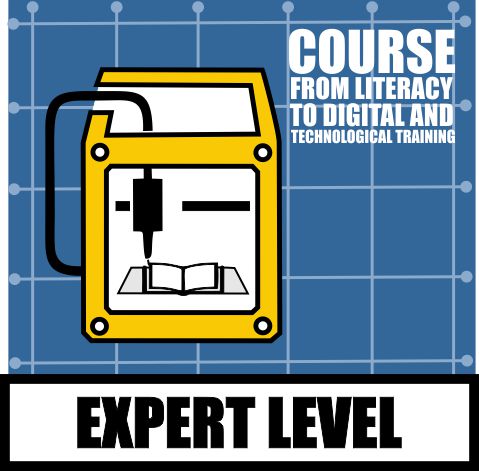 This level specifically focuses on the skills and abilities required by the technology sector, among which are the processes of analysis, job responsibilities, teamwork, responsibility, initiative, and innovation. It is specifically aimed at basic technological training for employability, but it is also intended to serve as a key progress to improve the inclusion of students in the educational system.
OBJECTIVES
This content aims to train adults in the skills required to take on a role in digital, technological, and innovation projects, and to develop transversal skills that guarantee their labor inclusion in this sector.
Throughout your professional career, it is very likely that you will change companies several times and will have to adapt to new ways of working and new technologies. Even those who hold the same job in a company for many years have to adapt to technological changes that are increasingly faster these days.
To advance in the development of your professional skills and make your work more valuable for your personal development, for the company you work for, and for society, you need to develop certain skills, and one of the most important ones is "learning to learn" autonomously, and accurately analyze the information you receive and the decisions you make from it.
In general, the problems that one finds a job are not like those you learned in training, so this level offers contents aimed at providing students with the necessary tools to face the new problems that they will find in their jobs, and to grow professionally every day within the technological and digital sector. Throughout the process you will find a series of exercises posed as problems to which you have to find a solution. This will allow you to know the value of scientific and critical thinking to achieve the training and skills required by technology-based companies, and achieve greater employability.
STRUCTURE
Los tes niveles del curso presentan un mismo formato con una estructura flexible que se adapta a las necesidades del alumno, estructurada en los siguientes apartados:
OBJECTIVES: the objectives to be worked on the level are listed, according to the 3 areas of learning.
BASIC COMPETENCES: a series of key transversal competences are specified for each level, in order to motivate and develop the self-confidence and inclusion of users, as well as to foster critical thinking, essential to work in the field of science.
METHODOLOGY: The proposed methodology promotes the inclusion of all students through collaborative and practical learning among equals, an essential pedagogical tool such as critical thinking, and the competence of learning to learn. It is about Micro-elearning: a proposal based on virtual learning and aimed at breaking-down didactic content through which certain skills are acquired. Learning in this way is generated in small pills (specific cases or examples) independent from the rest, but interconnected with them, forming a broader and deeper knowledge in the long term. It also allows it to be done in a short time, and can be carried out at any time and place through a digital device.
CONTENTS: Selected from an analysis of previous knowledge, in order to configure a specific itinerary for the student. They are comprised of a large number of independent Didactic Units (DUs) that will develop specific competencies so they achieve the proposed objectives.
EVALUATION AND CERTIFICATION: adapted to the previous knowledge of each student. Students who successfully complete the whole course will receive the digital badge "DIGITAL AND TECHNOLOGICAL TRAINING DIPLOMA".
CONTENTS
AREA 1: DEVELOPMENT SCIENTIFIC THOUGHT
1.1 INTRODUCTION OF THE AREA
1.2. OBJECTIVES OF THE AREA
1.3. CONTEXT OF THE AREA
1.4. CONTENTS OF THE AREA
DU 1. SCIENTIFIC THOUGHT. Introduction to the development of scientific thought.
DU 2. UNDERSTANDING OBJECTIVES: Understand the overall objective of the trial to be carried out, based on the work meetings in which you participate.
DU 3. FORMULATING A HYPOTHESIS: Posing a hypothesis before conducting a trial is a key element of the scientific method. It allows to anticipate the result and analyze the possible obstacles that may arise in the process. It consists of generating a previous idea of a possible result with the knowledge you have, to analyze and contrast the final result.
DU 4. DESCRIPTION OF THE TRIAL: How to describe the test performed and the results obtained so that other team members can understand it, analyze it, and help in the process.
DU 5. ANALYZING AND EVALUATING THE RESULT: What is the result obtained? Is it the expected result? What problems did you find? Why did these problems occur? These, and many others, are key questions that students should ask themselves after completing any trial, to understand their successes and mistakes, and to solve possible problems that have arisen.
DU 6. LOOKING FOR SOLUTIONS, COLLABORATIVE WORK: After analyzing the result, it is important to solve the problems that may have arisen, and for this it is necessary to find solutions. Teamwork is essential for it, since it provides different opinions, giving you a global perspective and making the search for solutions easier.
AREA 2: SKILLS AND ABILITIES REQUIRED BY THE TECHNOLOGICAL SECTOR
2.1 INTRODUCTION OF THE AREA
2.2. OBJECTIVES OF THE AREA
2.3. CONTEXT OF THE AREA
2.4. CONTENTS OF THE AREA
DU 1. PROCESSES OF ANALYSIS: carrying out a thorough review, inspecting each component individually, and learning how they interact to produce results to reach a full understanding of the process or part of it, with the objective of maintaining or achieving incremental or transformational improvements.
DU 2. JOB RESPONSIBILITIES: knowing the position and the assigned tasks; knowing the level of commitment that is assumed through an employment relationship or employment contract.
DU 3. TEAMWORK: generating a personal and collaborative disposition with others in carrying out activities to achieve common objectives, exchanging reports, assuming responsibilities, solving difficulties that arise, and contributing to a collective improvement and development.
DU 4. INITIATIVE: acting autonomously; the ability to choose with your own criteria; carrying out projects and actions necessary to develop options and plans in the workplace.
DU 5. INNOVATION: developing the ability to carry out a systematic search for opportunities and problem solutions through different ways of thinking and acting, to be materialized in new products and services that satisfy the needs analyzed.
AREA 3: BASIC TECHNOLOGICAL TRAINING FOR EMPLOYABILITY
3.1 INTRODUCTION OF THE AREA
3.2. OBJECTIVES OF THE AREA
3.3. CONTEXT OF THE AREA
3.4. CONTENTS OF THE AREA
DU 1. SCIENTIFIC KNOWLEDGE: Acquire the basic scientific knowledge necessary to effectively develop a job in the technology sector.
DU 2. PROPERTIES OF MATERIALS: The characteristics that make materials behave in a certain way when disturbed by external stimuli.
DU 3. COMPUTER KNOWLEDGE: Acquire the necessary computer skills and knowledge to carry out a job in the technology sector.
DU 4. GRAPH REPRESENTATION: They are effective tools for the display and analysis of the results of a trial.
DU 5. JOB RISK PREVENTION: The set of measures to be adopted in all stages of a company's activity to avoid or reduce risks derived from work.
BASIC INFORMATION
| | |
| --- | --- |
| Number of Didactic Units | 16 |
| Number of downloadable materials | |
| Number of learning pills | 68 |
| Approximate number of hours to complete the course | 252 |
| Number of languages available | 2 |
---
ACCESS TO THE COURSE
You've got two ways to access the course:
ACCESS THE E-LEARNING PLATFORM
Registration is required to access a personalized learning pathway and earn the certification and digital badge. However, if you prefer to access as a guest to see the possibilities offered by this course, access with the following information:
User and password: Literacy3
DOWNLOAD THE CONTENTS OF THE COURSE